Leap into Summer Sweeps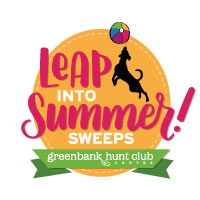 June 1 - 30, 2018
The next edition of our Leap into Summer Sweeps begins on June 1st! Be sure to pick up your entry cards when you shop or dine at participating merchants.
Participating Merchants
See full list of participating merchants (22 stores and businesses)
Rules & Regulations
For a complete list of rules and regulations, please visit the Summer Sweeps rules page.
2017 Grand Prize Winner
Congratulations to Richard M. Haney, Ph.D., the winner of a private dining experience for 10 at Salute Italian Kitchen & Wine Bar (max value $1,000). Richard says: "I am so happy to have won the Grand Prize at Greenbank Hunt Club Centre!! How appropriate. We are having a discussion-based gathering called 'What Matters Most' and it will be delightful to hold it at this wonderful Italian restaurant."